ABOUT
Located in Windsor just outside Brisbane's CBD, our creative space hosts talented resident and guest artists who are passionate about tattooing and creating custom pieces of art. Each artist offers a unique style and experience, all focusing on quality tattooing.

We believe the process is just as important as the art itself and we pride ourselves on our professionalism towards all of our clients.

We are here to help through the whole process, by offering free consultations with our artists to discuss your tattoo concept prior to your appointment. Here at Fox and Moon, we want to make your tattoo experience as comfortable as possible, and offer a range of organic vegan tattoo aftercare along with detailed instructions.
We aim to create a calm, comfortable environment that is both cruelty free and inclusive. 
We strive to be as environmentally conscious as possible, which is important to both us and the planet.

All artists and staff adhere to strict Queensland Health regulations and hold all relevant qualifications and licences.
"I've never been happier to walk into a tattoo shop. The artists are incredible, the atmosphere is so welcoming and I always leave with a new piece of art that makes me feel more fulfilled with my tattoo journey. They understand what you want and they create it. 11/10 highly recommend."
"Got my second tattoo today with Leisa. She listened to my thoughts and the design was perfect, exactly what I was after!  The studio has such a great vibe and the team were so lovely! Would 100% recommend Leisa & Fox & Moon for your next piece! What an amazing experience 10/10"
"Really chill shop.
Loved looking at everyone's amazing artwork on the walls, awesome vibes, talented artists.
Tattooed by Elaina, she's really cool and gave me the cutest tattoo!
100% recommend and will be coming back for my next tattoo."
Gift Vouchers
Looking for something for someone special? A gift voucher to our studio is the perfect idea!
shop now
Creative and Cruelty Free Shopping
Our handpicked merchandise area is brimming with both local and international artisan products; from ceramics to crystals, candles to succulents.
We have put our heart and soul into making sure we only collaborate with cruelty free, conscious brands and businesses - so our wonderful clients can shop with confidence and comfort.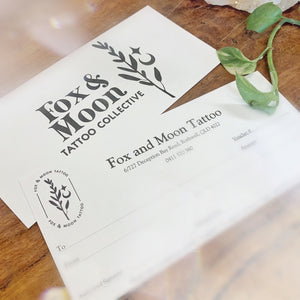 Gift Certificate
Sale price Price $50.00 Regular price Unit price / per
Tax included.